THINGS HAVE CHANGED BIG TIME.
Massive new purpose built timber drying warehouse, large enough to store cord wood until logged all undercover, with space to store hunderds of tonnes of logs to dry in preperation for delivery.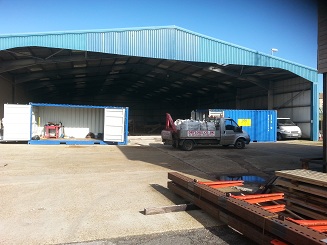 Logs being cut now in preparation for delivery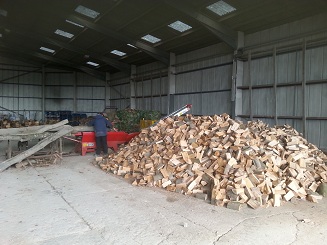 The green nets of logs in the background are drying in preparation to going into the Kiln (below right) very soon.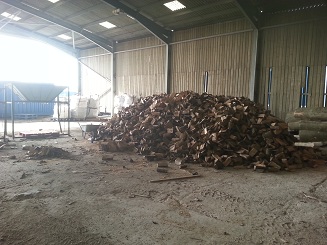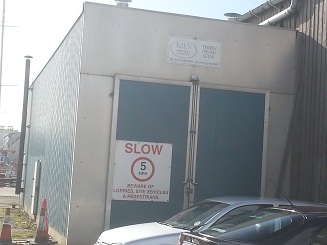 Place your order online or by phone for a delivery of quality Hardwood Firewood Logs.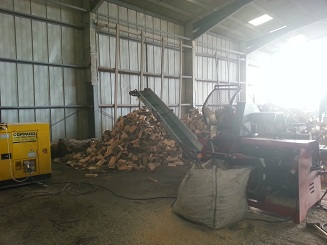 'Dry logs ltd' are one of the souths leading suppliers of
quality seasoned hardwood logs
for
open fires
and
wood burning stoves
. As a result of our
consistent high quality
most leading stove suppliers and chimney sweeps recommend their customers only use our seasoned
firewood logs.
OUR FIRE WOOD LOGS ARE SEASONED BEECH & ASH
may also contain small quanity of Hornbeam and Birch
all cut and split to the size you reqiure
from 8 inches to 18 inches, please let us know the size you require when ordering. Our standard size is 8-10 inches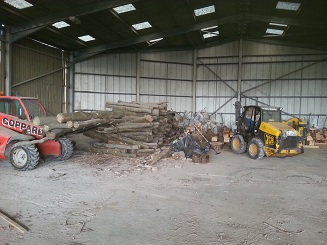 Standard seasoned from logs £70.00 per Bag
premium logs are now sold out, you can now reserve for next year
including 5% VAT and delivery.
payments are takenon delivery or by bacs (bank transfer)
All the hard wood we use is professionally harvested from managed sustainable beech woodland all along the south coast. The woodland is carefully managed to ensure the supply of quality fire wood and timber for many generations to benefit from.
The wood is cut and stored in the forest to season for a minimum of 18 months before being transported to our yard to be processed into logs to be delivered to your door
dry logs r us
We have the latest in log processors enabling us to produce logs of all sizes to meet all our customers requirements. Logs are produced and packed in to large bags , simular to that used by builders merchants to deliver sand and ballast in. When these bags are full they contain approximately 1/2 tonne of logs or 1 cubic metre
All deliveries are carried out with our crane vans, we leave the bag with you on delivery, we do like to re-use our bag, so request you keep them for us to collect on the next delivery we make to you.